I've been featured in Vancouver's KitsBeach Magazine and interviewed about my passion as a Personal Fitness Coach in Vancouver, specifically my links to the beautiful Kitsilano neighborhood that I have so many strong ties with.
To make the article "Transformational Coaching with Emilia D'Aversa" accessible to everyone who does not live in Vancouver or did not get an opportunity to read the Kits-exclusive magazine, I'm sharing the story, which was written by Richard Forzley for the July 2022 issue of KitsBeach Magazine.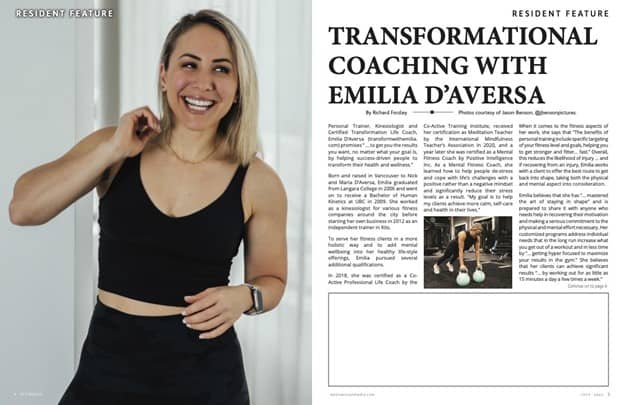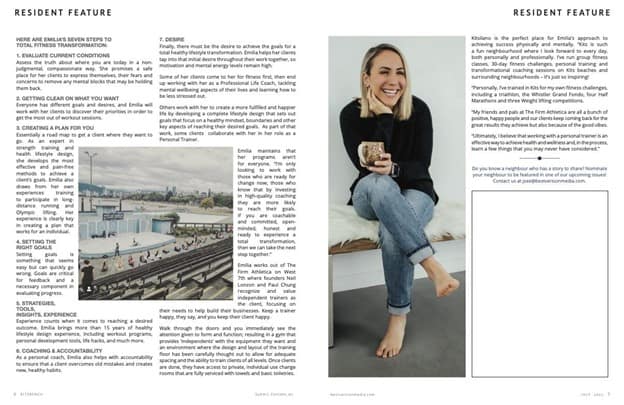 "Personal Trainer, Kinesiologist, and Certified Transformation Life Coach, Emilia D'Aversa (www.transformwithemilia. com) promises " … to get you the results you want, no matter what your goal is, by helping success-driven people to transform their health and wellness."
Born and raised in Vancouver to Nick and Maria D'Aversa, Emilia graduated from Langara College in 2006 and went on to receive a Bachelor of Human Kinetics at UBC in 2009.
She worked as a kinesiologist for various fitness companies around the city before starting her own business in 2012 as an independent trainer in Kits.
To serve her fitness clients in a more holistic way and to add mental wellbeing into her healthy lifestyle offerings, Emilia pursued several additional qualifications.
In 2018, she was certified as a CoActive Professional Life Coach by the Co-Active Training Institute, received her certification as a Meditation Teacher by the International Mindfulness Teacher's Association in 2020, and a year later she was certified as a Mental Fitness Coach by Positive Intelligence Inc.
As a Mental Fitness Coach, she learned how to help people de-stress and cope with life's challenges with a positive rather than a negative mindset and significantly reduce their stress levels as a result.
"My goal is to help my clients achieve more calm, self-care and health in their lives." When it comes to the fitness aspects of her work, she says that "The benefits of personal training include specific targeting of your fitness level and goals, helping you to get stronger and fitter… fast."
Overall, this reduces the likelihood of injury … and if recovering from an injury, Emilia works with a client to offer the best route to get back into shape, taking both the physical and mental aspects into consideration. Emilia believes that she has "… mastered the art of staying in shape" and is prepared to share it with anyone who needs help in recovering their motivation and making a serious commitment to the physical and mental effort necessary.
Her customized programs address individual needs that in the long run increase what you get out of a workout and in less time by "… getting hyper-focused to maximize your results in the gym." She believes that her clients can achieve significant results "… by working out for as little as 15 minutes a day a few times a week."
HERE ARE EMILIA'S SEVEN STEPS TO TOTAL FITNESS TRANSFORMATION:
1. EVALUATE CURRENT CONDITIONS
Assess the truth about where you are today in a nonjudgmental, compassionate way. She promises a safe place for her clients to express themselves, their fears, and concerns to remove any mental blocks that may be holding them back.
2. GETTING CLEAR ON WHAT YOU WANT
Everyone has different goals and desires, and Emilia will work with her clients to discover their priorities in order to get the most out of workout sessions.
3. CREATING A PLAN FOR YOU
Essentially a road map to get a client where they want to go. As an expert in strength training and healthy lifestyle design, she develops the most effective and pain-free methods to achieve a client's goals.
Emilia also draws from her own experiences training to participate in long-distance running and Olympic lifting. Her experience is clearly key in creating a plan that works for an individual.
4. SETTING THE RIGHT GOALS
Setting goals is something that seems easy but can quickly go wrong. Goals are critical for feedback and a necessary component in evaluating progress.
5. STRATEGIES, TOOLS, INSIGHTS, EXPERIENCE
Experience counts when it comes to reaching the desired outcome. Emilia brings more than 15 years of healthy lifestyle design experience, including workout programs, personal development tools, life hacks, and much more.
6. COACHING & ACCOUNTABILITY
As a personal coach, Emilia also helps with accountability to ensure that a client overcomes old mistakes and creates new, healthy habits.
7. DESIRE
Finally, there must be the desire to achieve the goals for a total healthy lifestyle transformation. Emilia helps her clients tap into that initial desire throughout their work together, so motivation and mental energy levels remain high.
Some of her clients come to her for fitness first, then end up working with her as a Professional Life Coach, tackling mental well-being aspects of their lives and learning how to be less stressed out.
Others work with her to create a more fulfilled and happier life by developing a complete lifestyle design that sets out goals that focus on a healthy mindset, boundaries, and other key aspects of reaching their desired goals.
As part of that work, some clients collaborate with her in her role as a Personal Trainer. Emilia maintains that her programs aren't for everyone.
"I'm only looking to work with those who are ready for change now, those who know that by investing in high-quality coaching they are more likely to reach their goals. If you are coachable and committed, open-minded, honest, and ready to experience a total transformation, then we can take the next step together."
Emilia works out of The Firm Athletica on West 7th where founders Neil Lonzon and Paul Chung recognize and value independent trainers as the client, focusing on their needs to help build their businesses.
Keep a trainer happy, they say, and you keep their client happy. Walk through the doors and you immediately see the attention given to form and function; resulting in a gym that provides 'independents' with the equipment they want and an environment where the design and layout of the training floor has been carefully thought out to allow for adequate spacing and the ability to train clients of all levels.
Once clients are done, they have access to private, individual use change rooms that are fully serviced with towels and basic toiletries.
Kitsilano is the perfect place for Emilia's approach to achieving success physically and mentally.
"Kits is such a fun neighborhood where I look forward to every day, both personally and professionally. I've run group fitness classes, 30-day fitness challenges, personal training, and transformational coaching sessions on Kits beaches and surrounding neighborhoods – it's just so inspiring!
Personally, I've trained in Kits for my own fitness challenges, including a triathlon, the Whistler Grand Fondo, four Half Marathons, and three Weight lifting competitions.
My friends and pals at The Firm Athletica are all a bunch of positive, happy people and our clients keep coming back for the great results they achieve but also because of the good vibes.
Ultimately, I believe that working with a personal trainer is an effective way to achieve health and wellness and, in the process, learn a few things that you may never have considered."
I'd like to thank Vanessa Roggeman and Richard Forzley from KitsBeach Magazine for interviewing and featuring me. I'm grateful to have had the opportunity to share more about my passions: being a Personal Fitness Coach and the Kitsilano neighborhood here in Vancouver. 
If you're intrigued and would like to stay connected for regular updates on healthy lifestyles, events, and my offers as a Personal Trainer in Vancouver, please JOIN MY NEWSLETTER.
Further reading: 6 Questions to Ask When Hiring your Female Personal Trainer in Vancouver