Working out with friends is a great idea and has many benefits. As a Personal Trainer, I list my reasons for bringing your BFF or workout buddy to our personal training sessions. I'll even include some working out with friends quotes.
Did you know that many of my personal training clients book semi-private sessions with me and bring their life partner, BFF, colleague, and even parent or adult child along as a workout buddy?
If you've ever asked yourself if you should exercise alone or in a group. If you've ever wondered why people are working out with a friend, or you're considering training together with someone. Here are some of my top reasons why I think you should consider bringing a partner along with you.
First of all, here's one of my favorite work-out quotes:
Friends who sweat together, stay together!
5 reasons why working out with friends is a great idea
1) Fun
You get to have fun together pushing your boundaries and going outside your comfort zone, working towards your healthy living goals.
A Buddy will keep you honest, and add a dimension of fun to your workout. – Bill Toomey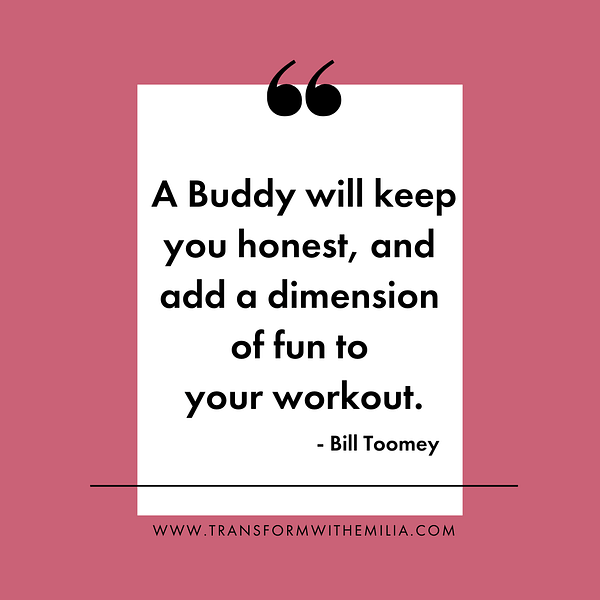 2) Connection
Exercising with a friend is a great way to bond, socialize, and connect with each other.
Best friends make the best workout buddies.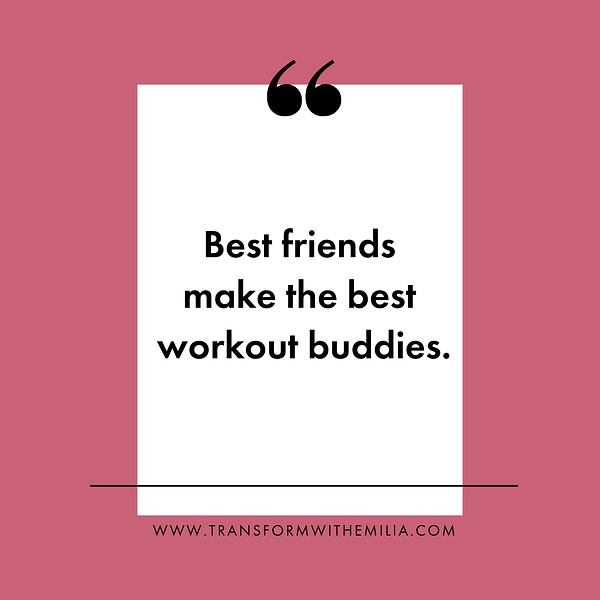 3) Accountability
Working out together means you'll be holding each other accountable, supporting each other to show up consistently.
Friends don't let friends NOT exercise.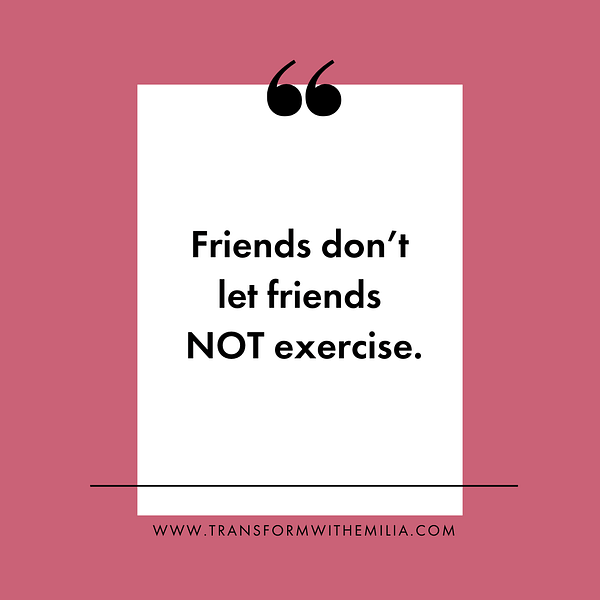 4) Value
Semi-private sessions are a more cost-effective way to work with me, as your Personal Trainer, while you'll still get targeted exercises and workout routines for each one of you.
Friends who exercise together get better results. Buddy up!
5) Growth
You both get to grow and better yourself together, motivate each other, and experience a personal transformation.
A friend who motivates you is always a blessing.
As you can see, there are many benefits and reasons why working out with friends is a great idea. Apart from getting better value for personal training sessions, there are the added benefits of bonding together while consistently pushing each other towards your mutual fitness goals. And best of all, it's even more fun.
Just imagine experiencing the 'exercise high' together with your workout buddy after one of my semi-personal training sessions!
If you like to sign yourself and your exercise partner up for semi-private sessions with me, you can