This time of the year is always full of baked goodies coming your way. Whether it's at work or with friends or maybe you are the baker, there are sweet treats all around. While it's good to indulge and enjoy a treat here and there, I also like having the option of healthier alternatives that can satisfy my sweet tooth craving. I find if I eat baked goods it doesn't take much for me to get a head ache from the sugar. Do you feel the same?
I decided to try making a no baking required, naturally sweetened treat. They turned out so yummy!  Using all organic ingredients, I made lemon coconut energy balls. I was pleasantly surprised. They were super easy to make and tasty! The lemon bites do a great job of getting that sweet tooth craving without feeling too much. They are gluten free, vegan, no baking required and literally take 10 minutes to make. Those are all things that appeal to me when making a healthy snack or desert.
If you are struggling to fit in a breakfast, need an afternoon pick me up or a pre-workout snack, these are the perfect bite sized treat to get in.
Check out the recipe below to make your own batch. Let me know if you make them or come up with any variations. Enjoy!
Xoxo your trainer,
Emilia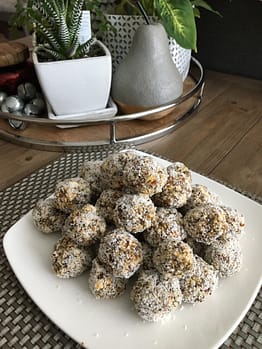 Ingredients Needed
1 cup Medjool dates (soaked in warm water for a min of 15-30 minutes)
1 cup cashews (can soak these overnight if you prefer – makes them easier to digest)
1/2 cup unsweetened coconut flakes
1 lemon zested
1 1/2 tablespoon of lemon juice
1/4 cup chia seeds
1/4 cup unsweetened coconut flakes left on the side (For coating the outside coating.)
Directions
Place everything (except the extra 1/4 cup of coconut flakes) into a food processor. Blend until everything has come together. Place the blended ingredients onto a baking sheet (or plate) and begin to roll into balls. Coat each ball in the extra 1/4 cup coconut flakes. They can be stored in an air tight container in the fridge for a week or they can be placed in the freezer for a longer period of time. Makes 15 mini balls.
Each Serving Contains
143 calories
10g fat
13.76 g carbohydrates
3g protein